Do You Want To Build A Sandwich?
Every day should be sandwich day, but last Friday was the designated National Sandwich Day for all lovers of bread layered with cheese, meats, and more. You might have seen us post our own take on the Ham & Cheese sandwich – now you can follow along these instructions to make your own "Sandwich Mesh" sandwich!
(Made with love from all-Paiho ingredients. Ask us how you can get custom patterned sandwich/double-layer or single-layer mesh!)

Here's How To Craft Your Sandwich Mesh
1. Fold your brown single-layer mesh in half ("subway style"). Cut into a long rectangle and then round out the edges. This will be your sandwich bread!

2. Cut your green sandwich mesh into three cloud-shaped pieces. They don't have to be perfectly even, since this will be your lettuce.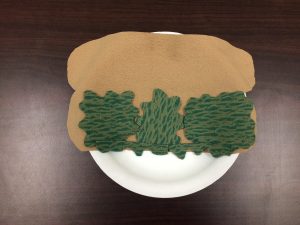 3. Cut your pink mesh into 3 circles to make the ham slices.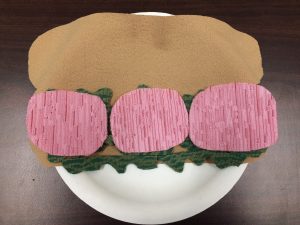 4. Take the "holey" mesh and cut it into 3-4 squares. You can cut more holes in the fabric to make your Swiss cheese look like the real deal!
5. Cut your red mesh into 3 circles to form the tomatoes.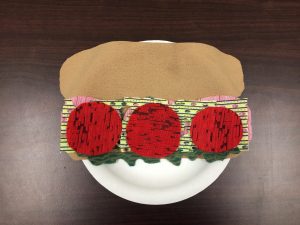 6. Lastly, you need some dressing! We picked a red/yellow patterned mesh to make our mustard and ketchup sauce. Choose a fabric pattern based on your favorite sauces and cut it into narrow, wavy strips. Now add it on top of your sandwich to complete your DIY "Sandwich Mesh" creation!

Post pictures of your sandwich and tag @paihonorthamerica on Facebook or @paiho-USA on Twitter to show us your finished product!
Interested in learning more about our Jacquard Engineered Mesh? Call us at (800) 328-4747 or email sales@paiho-usa.com to get more information about our single and double-layered (sandwich) mesh. Like the samples shown here, our engineered mesh comes in a variety of highly-detailed and customizable patterns. Just ask us!