The IFAI Expo 2017 (Industrial Fabrics Association International) is coming to New Orleans, LA on September 26-29th. Be sure to stop by Booth 1307 in the Specialty Fabrics section and say hello! We can't wait to see everyone at the show.
Here is a preview of the NEW products we will be showcasing for Showstoppers. You won't want to miss them!
ETN-62S

Advantages: A low-profile, molded hook fastener designed with an ultra-soft hand feeling to serve the footwear, medical orthopedic, tactical and sporting industries. The flexible and soft material is perfect to use for straps on orthopedic braces as well as hook tabs for tactical and other commercial applications. Products requiring medium to high cycle life, easy peel strength, and frequent skin contact will benefit from the newest Easy Tape® molded hook fastener.
The ETN-62S is the latest ultra-soft molded hook from the Paiho Easy Tape® line. This fastener features the softest hand feeling of any Paiho molded hook, all the while offering good cycle life. Molded hook fasteners are typically made from a harder plastic, but the ETN-62S uniquely combines the best of both worlds with durability and softness. ETN-62S should be used with the knit loop ETB-07 and can be customized with many backings to create an even more unique look for your product.
X-panda
Advantages: A flexible braided PET cable sleeve. These convenient sleeves expand to fit a variety of wires and cable bundles, make them versatile and easy to use. X-panda is designed to protect cables and wires from environmental factors, including fire (fire retardant sleeves only). This product meets the UL Fireproof Rating Class 2 and the RoHS/REACH compliance standards.
X-panda is designed to make cable management simple. It expands to fit wire bundles large and small and comes in 8 standard colors for easy color-coding, along with fire retardant treatment. Our newest cable management sleeves are made for the electrical, live production, and automotive industries. Technicians can organize wires into manageable and safe bundles with X-panda.
Electro-X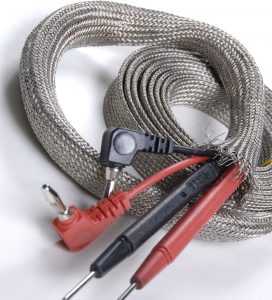 Advantages: A heavy-duty, expandable cable sleeve designed to block electromagnetic interference. This sleeve braids together fiberglass, tin and copper, making it an excellent shield from heat and extreme environmental factors. Electro-X can withstand temperatures up to 600~800˚F. This product meets the RoHS/REACh compliance standards.
Electro-X is designed for industrial, telecommunication and automotive applications where heat stabilizing and electromagnetic shields are necessary. This sleeve's flexibility and metallic composition makes it extremely durable and adaptable for multiple uses.
Quik Wrap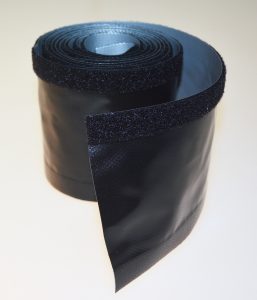 Advantages: A 100% nylon hook and loop laminated to PVC wrap. With hook and loop closure, this product allows users to apply Quik Wrap on existing bundles and easily access their cables at any time. The durable and abrasion-resistant PVC material is also fire retardant, making it suitable for industrial use.
Quik Wrap's reclosable hook & loop fastener allows technicians to check on the condition of cable and wire bundles without removing the cable wrap. Users can easily adjust the wrap or re-use it on a new wire bundle without ever needing to unplug or detach the wires. This makes Quik Wrap perfect for applications requiring more frequent opening and closing of the cable wrap.
Engineered Mesh Fabric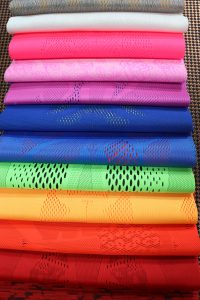 Advantages: Advanced specialty looms produce this Italian Style Jacquard Engineered Mesh, allowing for highly detailed patterns to be digitally knitted rather than printed. We offer two types of engineered mesh, single layer and sandwich mesh with multi colors, various thickness and hand feelings. This spacer fabric is 100% designed, knitted and treated in Paiho's own factory to ensure outstanding quality and on-time delivery.
The Jacquard Engineered Mesh is a spacer fabric that can be used in footwear, apparel, military, automotive, medical, furniture and many other markets. Applications requiring a breathable, air permeable, water-repellent, lightweight and soft touch fabric will benefit from this new engineered mesh. This fabric is digitally knit, so the patterns are both wear-resistant and highly detailed.
Convex Spiral Shoelace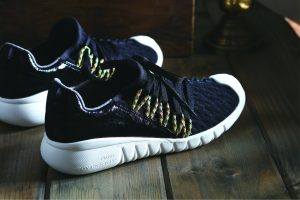 Advantages: Features a spiral convex braid that naturally forms a lock, preventing the shoelace from coming loose. The unique pattern and multi-color space dye yarn creates the perfect look for various applications, including earth blended tones for outdoor and tactical products.
The Convex Spiral Shoelace provides easy-to-maintain and durable function. The slip-resistant texture is perfect for high-performance medical, military, tactical, outdoor footwear, along with apparel and accessories. Braided together, the multi-color space dye yarn creates a variety of unique patterns ranging from heather to ombré.
Hope to see you soon in NOLA!
Use our VIP code EP186 to register as an attendee for free.