We've been gaining some interest in our Paiwrap® cable ties, so here are some fast facts on how Paiho can help you create and customize your cable ties!
Low Profile – With only a 1 mm gap, these self-fastening cable ties are ultra thin.
Light Peel Strength, Strong Shear Strength – After 5,000 cycles, the shear strength only reduces by 17%!
Tri-Hook Design – Paiho's molded hook design allows the cable tie to be fastened in any direction.
Post-Processing and Customization – We can help you customize your cable ties! From die cuts and high frequency welding to printing – the possibilities are endless. See below for examples or call us at (800) 328-4747 to learn more.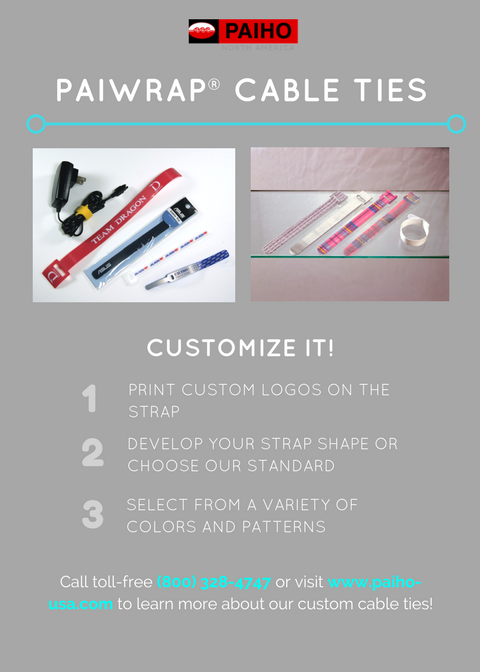 What is Paiwrap®?
It's our ultra low-profile molded hook (Easy Tape®) laminated back to back with our soft knit loop. Together, they create a self-fastening tie that can be used in anything from cable and wire management to gardening. Read more about Paiwrap® and the ways you can use it in last week's Paiho blog post.

If you're interested in learning more about Paiwrap®, Easy Tape® (our line of low-profile molded hooks), our other textile products, and customization and post-process treatments, call toll-free today at 800-328-4747 and a customer service representative will be happy to assist you! Or visit our Products and Services page to learn more.