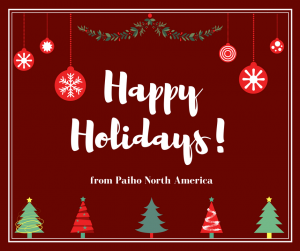 As the year draws to an end, Paiho wishes you a Merry Christmas and a very happy, successful New Year!
Paiho North America will be closed for the following holidays:
December 22nd ~ December 25th, 2017 – Christmas Holiday
December 27th ~ December 28th, 2017 – Inventory
January 1st, 2018 – New Year's
We are looking forward to a new year filled with opportunities and positive change. Happy Holidays, and here's to a great 2018!