You still have one day left to decorate your house for trick-or-treating and Halloween parties! We will show you how to reuse toilet paper rolls to make Frankenstein's monster (and other fun characters) come to life in 5 easy steps. The best part about this Halloween monster decoration is that it can stand on it's own!
Here's What You Need:
4″ Green Loop
Black Hook (any width)
1/2″ Black Hook Adhesive Coins (rubber or acrylic)
3/4″ White Loop Adhesive Coins (rubber or acrylic)
Scissors
Tape
Toilet paper roll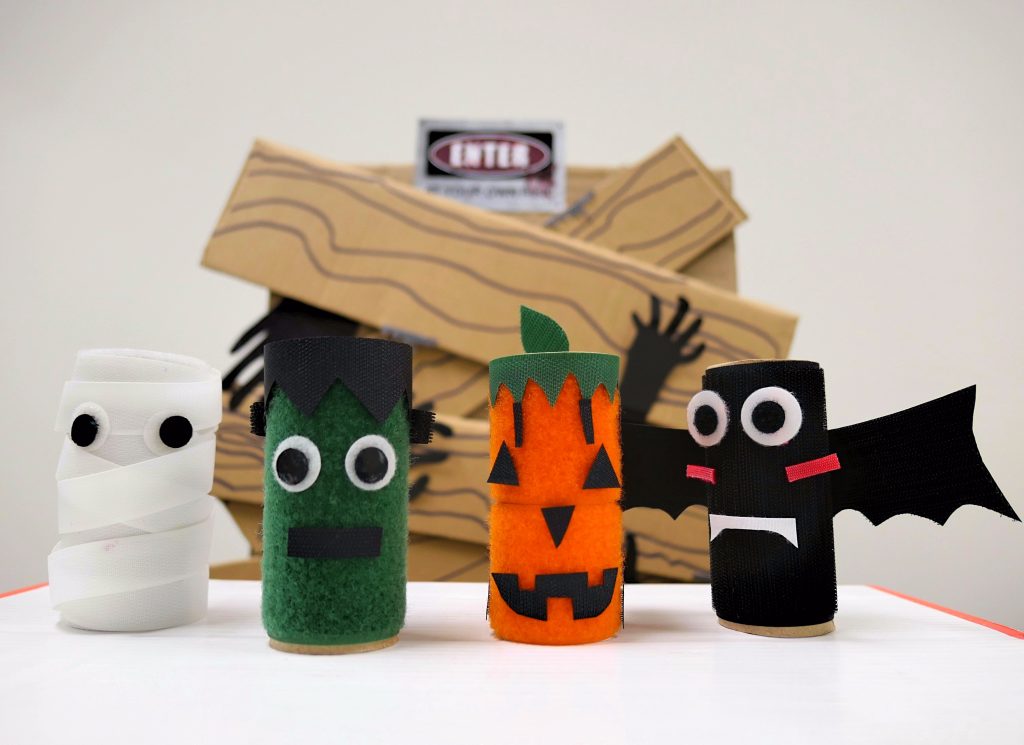 Here's How To Make Your Halloween Frankenstein's Monster:
Step 1
First, wrap the 4″ green loop (loop side out) around toilet paper roll and attach a piece of hook in the back to hold it. You can add tape to seal it off.
Step 2
Use scissors to zigzag cut a strip of black hook to make the hair, and stick it (hook to loop) to the toilet paper roll.
Step 3
Peel off the liner of the white loop coins and glue on to toilet paper roll for the eyes. Then cut out the black hook coins (leaving plastic liner on) and stick the hook side to loop coins to complete the eyes!
Step 4
Cut 2 small strips of black hook. Curl it into 2 black hook circles and stick on each side of toilet paper roll for the bolts (hook side facing out).
Step 5
Finally, cut a rectangle mouth using black hook and stick it (hook side to loop) on toilet paper roll.
************************************************************************************
Done! In just 5 easy steps, you have your own Frankenstein's monster to put up around the house. Be creative! You can have fun designing your own creatures and monsters using the same idea!
We hope you had fun and enjoyed making this craft DIY. We would love for you to share your artwork with us on Facebook and Twitter. And subscribe to our Youtube channel for more Halloween DIY videos and year-round crafting inspiration!