Made from grade A yarn, PAIHO's webbings can be knitted or woven with various types of yarn such as nylon woolly, bright, or reflective yarn to show diversified colors, surface textures, and unique effects. Our webbing processes include eco-friendly dyes and no heavy metals. To name a few, PAIHO® has various types of webbing treatments for all lace and drawcord types such as Eyelet webbing and B-Swan Wide-Narrow webbing. The B-Swan strap consists of a one-piece narrow and wide ribbon which features unique patterns. The maximum size of round B-Sawn webbings is 10mm. The ratio of wide to narrow bands is 2.5 to 1 and the CD length can be adjusted to the customers' needs. The strap is suitable for handle bags, apparel, and more. Eyelet webbing consists of a two layer structure with non-stretchable webbing and stretchable elastic to create a lock-down performance. Webbings can be post-processed for sizing to help with tactility or softness that is suitable for footwear, apparel, and accessories. PAIHO® also provides post-treatment processes such as silicone spreading, screen printing, sublimation printing, reflective & radiant light film lamination, high-frequency embossing, and ultra-sonic punching. We also produce various kinds of webbing tape and patterns as listed below:
Woven Tape, Knitted Tape
Elastic Tape
Narrow & Wide Tape, Tube Tape
Jacquard Tape, Special Tape
Binding Tape, Piping Tape
Line
Flat
Half Fishbone
Cross
Wave
Slop
Mix
Chessboard
Block
Flat Wave
Flat Wave
Cubic
Fishbone
Core
Tube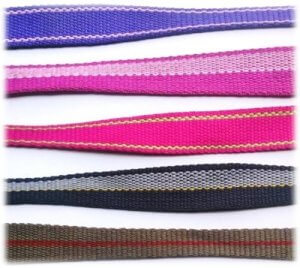 Wide & Narrow Webbing (Stripe Pattern)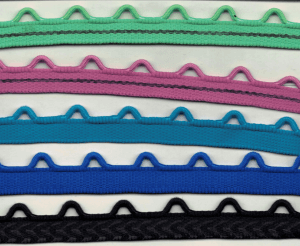 Webbings can be applied to apparel, footwear, and equipment products. PAIHO® produces various kinds of webbings as listed below:
Woven Webbing
Knitting Webbing
Jacquard Webbing
Braided Webbing
Oval Webbing
Special Treatment Webbings are available for special designs as listed below:
Waxed Webbing
Reflective Webbing
Embossed Webbing
Silicone Webbing
Printing Webbing
PAIHO® offers various webbings such as brilliant, luxurious, and geometric webbings that can be knitted or woven. Knitted webbings are highly breathable and can be configured for wash-resistance. Footwear webbing applications include upper, eyelet, tongue, heel, and elastic tape binding. Apparel webbing applications include neck, front, hood, cuff, sleeve, shoulder, pocket, label, pants, and waist webbings.