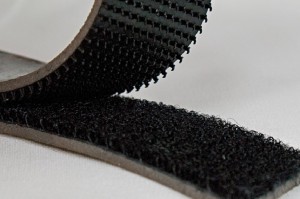 Paiho North America is proud to introduce the most aggressive high-cycle closure in the fastener market. PaiGrip is ideal for any application that requires strength and high cycle performance. PaiGrip is a cost effective replacement for Dual lock and can be used in automotive interiors, tonneau covers, bed liners, POP displays, signage, industrial doors, furniture, medical bracing, flooring and roofing. PaiGrip is available with standard backing, rubber, acrylic and high temperature foam acrylic pressure sensitive adhesives. PaiGrip lets you mount items without drill or puncturing the surface, no holes or tools are required!
Where and when to use PaiGrip:
• Automotive: Headliners, side panels, seat applications, GPS mounts, toll tags or other aftermarket accessories.
• Outdoor/Indoor signs and graphics: POP displays, Exhibits, tradeshow booths, temporary or removable graphics or signs.
• Furniture: Any office or institutional furniture; works on upholstered or non-upholstered surfaces, wood furniture, cubicles or room partitions. Use to secure hanging files, bulletin or white boards, use for quick repairs to seat cushions or other components.
• Electronics: Use to mount or secure computers, monitors, accessories, peripherals, or other equipment. Any aftermarket car audio installations or components.
• General: Any type of office or warehouse machinery, operational equipment, maintenance/repair logs and manuals, secure medical equipment for transportation.
CONTACT OUR SALES TEAM TODAY TO FIND OUT MORE ABOUT PAIGRIP AND OUR OTHER SPECIALTY FASTENERS
800.328.4747