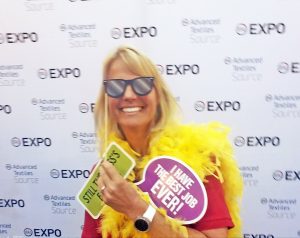 Linda's Favorite Things
Who doesn't love a weekend getaway? For our adventurous Sales Manager, Linda, the best weekends are spent camping under the stars.
"It doesn't matter if I am with friends, family or just my husband and our dog Jake," said Linda. "I find that being out in nature and away from the hustle of the daily life brings me a sense of peacefulness and allows me to clear my head."
Her love for the outdoors might be inspired by her favorite TV show growing up – "Little House on the Prairie."
"One of the main characters, Laura (Melissa Gilbert) was not much older than I was and it always amazed me that she could go wherever she wanted to go by herself! This included going into town or running out in the fields to play. Seriously, who gets that much freedom?" said Linda.
In the spirit of exploration, Linda's number one bucket list item is to go see the Northern Lights.
"That has been my ultimate goal in life since I can remember. I could only image the beauty and amazement that the lights hold!" she said.
Her Not-So-Secret Superpower
As for superpowers, she picked one that could be very useful for someone in sales.
"My superpower would be to read someone's mind and gain their knowledge immediately! Wow, would that make my life so much easier," said Linda.
More Fun Facts
If you could be any animal, which would you be?
"I seriously thought about this and I can't think of one animal I would want to become because almost every animal could be attacked by another animal. I don't really want to be in some other animal's food chain. I'll stick to being a human."
What's your favorite movie?
"My favorite movie is Pretty Woman with Richard Gere and Julia Roberts. I can turn that movie on at any spot and get sucked into watching it. I mean come on, isn't it wonderful having a knight in shining armor sweep you off your feet and be your hero?"