The Hook & Loop industry isn't what it used to be, and it is especially difficult to narrow down the right supplier for you and your business' success. When choosing your supplier, what is important to you, your business, and your customers?
Below, PAIHO® North America highlights 4 reasons why you should choose us to aid in your business' success. PAIHO® is dedicated to work with our customers, from beginning to end, to supply you the products you need to keep you going. Our value-added services and customer service team are here afterwards to make sure we keep you covered!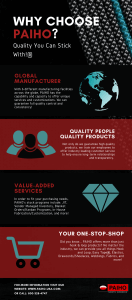 For more details and ways we can cater to your unique business, reach out to us! We're happy to help.
sales@paiho-usa.com or call 800-328-4747